"I earnestly recommend that it be in the early morning, unless there are some extenuating circumstances. Entering the day without a serious meeting with God, over his Word and in prayer, is like entering the battle without tending to your weapons. The human heart does not replenish itself with sleep. The body does, but not the heart. We replenish our hearts not with sleep, but with the Word of God and prayer."

John Piper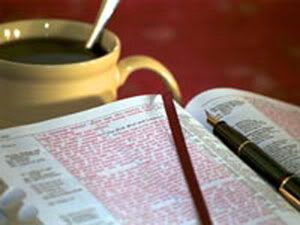 (source)
Sarah Mae at
Like a Warm Cup of Coffee
started the
5AM Club
. The purpose of our little group is to intentionally set aside a time every day, first thing in the morning, to spend some quality time with the Lord. Sarah Mae linked to
girl talk
whose "Habits of Highly Effective Women" begin with
she rises early
. Sarah Mae changed our chapter of the club to the
5:16 club
when she found this verse:
Ephesians 5:16
making the most of every opportunity, because the days are evil
Getting up at 5:16AM every morning to read my Bible and pray is one way that I intend to "make the mmost of every opportunity." And the reason that I put on my goal "for 21 days straight" is because they say that in order to make something a habit, you have to do it every day for 21 days.
Lisa over at
Stop and Smell the Chocolates
posted the following poem in one of her Motivate Me Monday posts, and I think it is a very appropriate explantion of what I hope to gain from these times.

"In the early morning hours,
'Twixt the night and day,
While from earth the darkness passes
Silently away;

Then it's sweet to talk with Jesus
In your bedroom still--
For the coming day and duties
Ask to know His will.

Then He'll lead the way before you,
Laying mountains low;
Making desert places blossom,
Sweet'ning sorrow's flow.

Do you want a life of triumph,
Victory all the way?
Then put God in the beginning
Of each coming day."

(From Charles E Cowman Devotionals - Streams in the Desert)