In a time when nothing is more certain than change, the commitment of two people to one another has become difficult and rare. Yet, by its scarcity, the beauty and value of this exchange have only been enhanced.
~Robert Sexton~
Marriage is truly a beautiful thing. Easy? Definitely not. Fun? Not always, but often. Worth it? Every minute! However, in today's culture marriage has gotten a bad rap. Married couples in movies and on television are often depicted as miserable and mutually disrespectful. In break rooms across the world one can find co-workers engaging in ritual "spouse bashing." And more and more people have simply stopped believing that marriage is of any value at all.
Being a newlywed myself, I've honestly been a little discouraged by the negative connotation marriage is receiving. Until I found a company that's doing something about it!
"From*me Tees was started by a married couple who knows what it is to work through hard stuff and yet stay together and stay committed through it all. One of the great and wonderful mysteries of life is that loving each other in action--what we do and say--produces romance. Everything in our culture today teaches the opposite, that romance turns into love, but nothing could be further from the truth. Love is a choice and we decide how we're going to treat each other in the good and in the not-so-good times. What a hope-giving reality that a strong relationship can be built, simply by changing how we interact with our spouse.
Thus ~ "my husband rocks" Fridays ~ is born!
And as an added bonus . . . . if you make a From*me Tees purchase (of at least two items) on Fridays as part of this "carnival," From*me Tees has generously offered to refund your shipping charges if you mention my blog and the "my husband rocks Fridays carnival" during checkout at the "how did you hear about us" reply link!
To add the button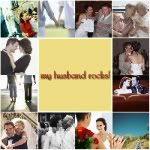 to your sidebar, use the following code
<a href="http://honestandlasting.blogspot.com/2008/06/my-husband-rocks-friday.html"><img src="http://i303.photobucket.com/albums/nn135/katylinvw/mosaicmhrf.jpg"/></a>